Replace these hormones to more youthful levels to effectively "turn back the clock" helping you feel more positive, energetic and vigorous.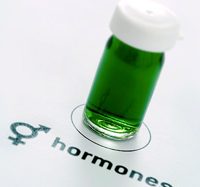 Bioidentical simply means "identical to life", i.e. precisely the exact same substance that exists in your body. The alternative is a pharmaceutical imitation, which can mimic some of the functions but is not a precise match and is often associated with undesirable side effects. Numerous hormone levels decline as we age; we call these the "pauses" of life (menopause, andropause, thyropause, adrenopause, etc). Nothing good comes from this decline, but it signals our bodies to degenerate, getting slower, fatter, sicker, and stupider!
By replacing these hormones to more youthful levels we can effectively "turn back the clock", helping people to feel more positive, energetic, and vigorous, while strengthening bone, muscle, heart, and brain, as well as enhancing mood, sleep, and immunity.
Please ensure you complete the registration form and questionnaire with as much detail as possible. Dr. Pagdin will be utilizing many of your answers to create a tailored and comprehensive lab requisition for you.
*In order to reduce the duplication of ordered lab testing, please forward any recent lab results that you have had within the last 3-6 months to us along with your completed forms
Get your lab results online!  Visit http://www.myehealth.ca/ to find out more.
Once the questionnaire and registration form are complete, return all documents to us either by email, fax or you may drop them off in person. You will then be contacted by our office to arrange a brief 15-minute interview (either over the phone or in-person) with the doctor to establish and arrange your lab testing. Our services are not covered by medical insurance therefore, full payments are required prior to the services being rendered.
A Bio-Identical Hormone consultation is 45-minutes in length and $350. 30-minute quarterly appointments are recommended for the first year ($250). Additional 15-minute follow-up appointments are $125. Our goal is to have you feeling optimal and balanced such that we will see you once or twice a year. As an added convenience for our patients, follow-up appointments can be done over the phone.
Please note that seeing Dr. Pagdin for HRT does not make him your "family doctor". He will be acting as a consultant for hormone replacement therapy. All other medical concerns should be followed-up with your family doctor or at a walk-in clinic.
Please feel free to call or email if you have any further questions.  We look forward to being in touch with you soon.
Live as young as possible, staying energetic and youthful without pain or disease.
Let us partner with you in wellness and prevention.