Restoring hair loss with a Platelet Rich Plasma Treatment PRP
PRP Treatment for the Hair
We are excited to announce that the Pagdin Health Clinic has just acquired a new technology for delivering Platelet-Rich Plasma (PRP) directly to hair follicles in a precise fashion. Called the "U225", this leading-edge technology is a huge improvement to the way we deliver PRP. It looks surprisingly like a gun, but in actual fact is a holder for a syringe, activated by an air compressor, delivering a tiny droplet of PRP at a precise depth of 1.5mm below the skin surface with every squeeze of the trigger. The best news is, this treatment is completely painless requiring no anesthetic!
The protocol we recommend is a series of three treatments of PRP at intervals of 3-4 weeks apart using the U225 gun. PRP has been clinically tested for safety and effectiveness in promoting new hair growth in both men and women. (1)
Because new hair growth can take 6-9 months, we have our patients come back for follow up photography 6 months after their treatment is complete.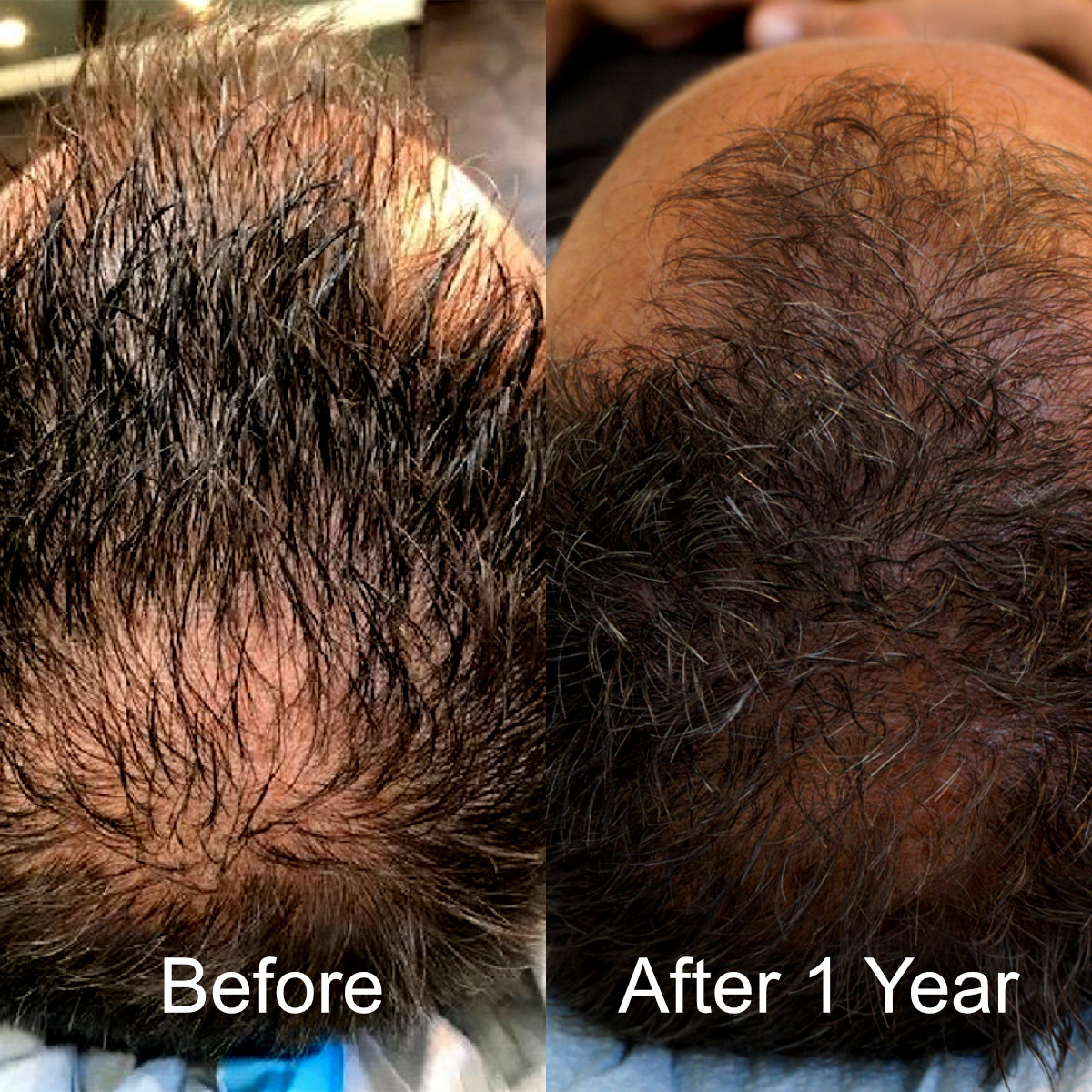 We will be happy to set up a 15 minute no-charge consultation for you. This can be either at our Kelowna office or by telephone.
Frequently Asked Questions
PRP is suitable for both men and women as it stimulates hair growth.  It is non-surgical and completely natural.  Your own platelets are used to heal damaged or dormant hair follicles.
Individual results will vary, but the majority of our patients report an improvement in overall hair density within 3-6 treatments.   
A minimum of 4 treatments is recommended and for best results we recommend 6 treatments.
Dr. Pagdin has developed a special recipe for a scalp solution. This solution helps prevent the new hairs from falling out.  This is to be applied daily or every other day and works in conjunction with the PRP treatment.
Yes, either localized areas or generalized alopecia.
Yes.  It is okay to be out in the sun after 24 hours.
It is okay to resume exercise but do not wash your hair until the day after your treatment.
After the series of initial treatments, a maintenance routine of 1-2 treatments per year is recommended.
At the request of the client we take before and after photos for their medical records and personal use. These images are not released for public viewing for the following reasons:
The majority of our clients do not want to advertise that they are having cosmetic procedures done and we respect and protect their privacy.
It is commonplace for websites to post before and after photos that have been photoshopped or are stock photography. We do not feel this is a fair representation and instead invite you to view testimonials and comments from some of our previous and current clients who have volunteered to share their experiences here at Pagdin Health.
Live as young as possible, staying energetic and youthful without pain or disease.
Let us partner with you in wellness and prevention.