Rejuvenate your face with a Platelet Rich Plasma Treatment PRP in Kelowna
PRP Treatment for the Face
Commonly referred to as a Vampire facelift, Platelet Rich Plasma (PRP) injections are a way of enhancing the face using your own blood products, which is why it got the name.
However, we inject PRP using a special technology called U225, which injects small droplets of PRP at a precise depth. This top of the line technology makes the procedure virtually painless and doesn't leave your face looking all bloody (you've probably seen those images on the internet!).  In fact, you could easily go to a function right after having the treatment done.
Your blood is extracted and spun in a centrifuge which gets rid of the white and red blood cells and just leaves the platelets.
Platelets are rich in growth factors. We inject these into your face in problem areas like wrinkles around the mouth and crows feet around the eyes. The platelets rejuvenate the elastic and connective tissue properties in the skin so that it softens the face, it erases some of the wrinkles and fine lines, and gives you a more youthful appearance.
Unlike procedures like Botox and fillers, which are quite temporary and basically "iron out" the skin, the benefits from platelet rich plasma injections in the face can last for 12 to 18 months.
Most people will notice an immediate benefit right after the very first injection.
We recommend three injections of platelet rich plasma approximately 3-4 weeks apart.
If you'd like to consider some facial rejuvenation using PRP, we'd be happy to have a discussion with you about this technique.
Dr. Pagdin explains the PRP for facial rejuvenation treatment: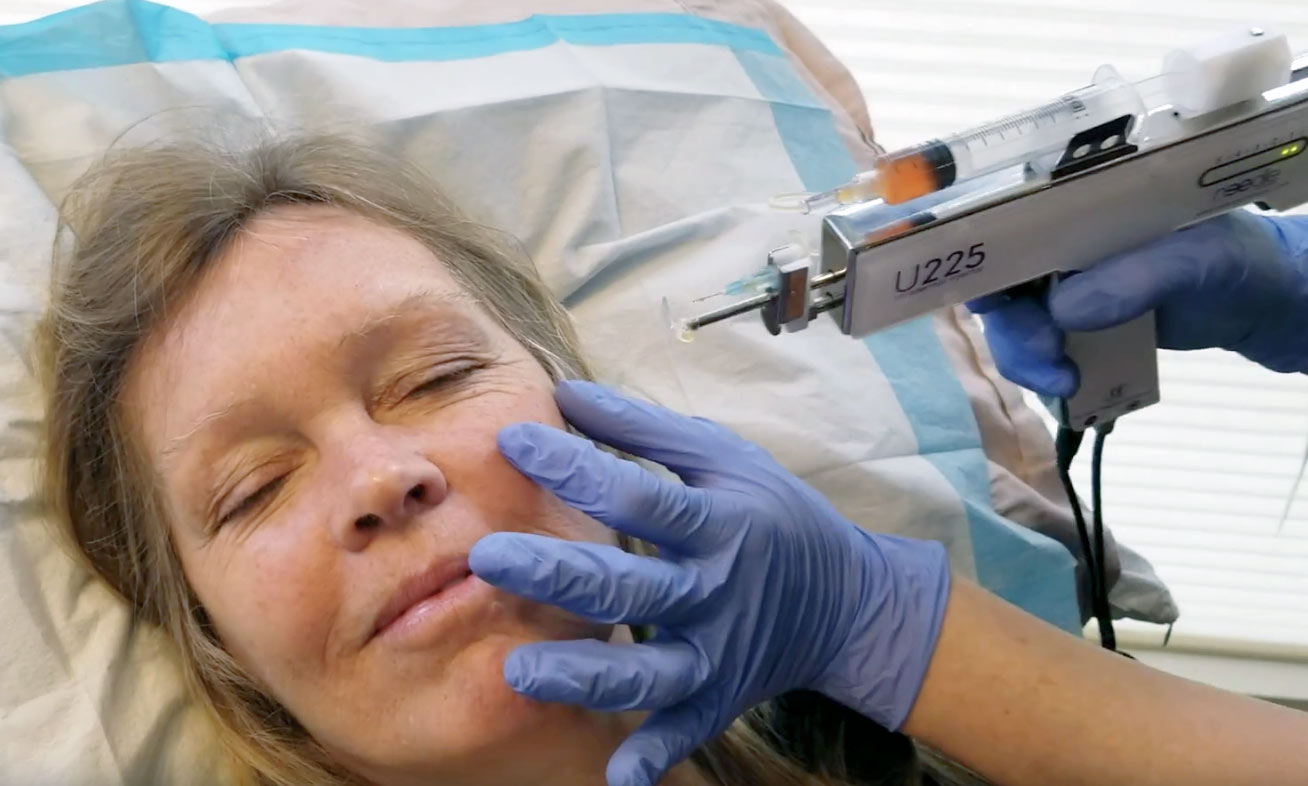 It's what PRP is doing under the skin that's important. Dr. Pagdin discusses the many benefits of PRP treatments.
How does PRP for the face differ from Botox and other filler treatments?
Nate completed a PRP treatment for face rejuvenation and hair restoration and shares his experience:
Elaine just had a face rejuvenation and hair restoration treatment - she shares her experience:
Sandra shares her experience on receiving the PRP Facial treatment at Pagdin Health:
Steve discusses the face rejuvenation treatment he had at Pagdin Health:
Hear Kevin discuss the results he received after having a PRP treatment for his face:
We will be happy to set up a 15 minute no-charge consultation for you. This can be either at our Kelowna office or by telephone.
Frequently Asked Questions
It is non-surgical, completely natural and does not leave your face looking "frozen", "over-plumped" or very red after the injections.  PRP can delay the process of aging by increasing the production of collagen and elastin giving you increased structural support under the skin to prevent sagging and drooping.   The benefits are long-lasting (12-18 months).
The Vampire Face Lift, invented by Dr. Charles Runnels, is a trademark-protected name referring to injections of blood into the face.  Here at Pagdin Health, we offer the same rejuvenating benefits of platelets, without the pain or a bloody mess left on your face after the procedure. The PRP Facial rejuvenation we offer has no down time and our patients resume their daily activities immediately after the procedure.  We use the U225 delivery system which is one of the most advanced injection methods for facial rejuvenation.
Yes, this procedure can be equally applied to soften wrinkles and tighten skin on the neck area.
Discomfort is very minimal, and no anesthetic is required.
It is okay to be out in the sun after 24hrs and wear sunscreen.
It is okay to resume exercise after the procedure but do not wash your face for the first 1 hour after treatment.
Yes.  PRP improves these conditions by delivering growth factors directly to the site concerned and triggering the skin's repair processes.
Individual results will vary, but overall, our patients report:  firmer, softer, and more youthful looking skin, with a healthy glow after the first couple of treatments.   
A minimum of 3 treatments is recommended and for best results we recommend 6 treatments.  
Yes, PRP treatments can actually shrink keloids.
At the request of the client we take before and after photos for their medical records and personal use. These images are not released for public viewing for the following reasons:
The majority of our clients do not want to advertise that they are having cosmetic procedures done and we respect and protect their privacy.
It is commonplace for websites to post before and after photos that have been photoshopped or are stock photography.  We do not feel this is a fair representation and instead invite you to view testimonials and comments from some of our previous and current clients who have volunteered to share their experiences here at Pagdin Health.
Live as young as possible, staying energetic and youthful without pain or disease.
Let us partner with you in wellness and prevention.