We'll review your lifestyle factors and health goals and suggest lifestyle modifications to help eliminate diseases associated with aging.
Thank you for your interest in Executive Physical Exams.
The program has reached maximum capacity and we are unable to accept new patients at this time.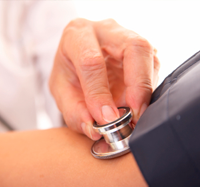 When is the last time you had a comprehensive head-to-toe physical? Unfortunately, if you are in reasonably good health a "routine" physical is not an insured service under MSP. Our executive physical exams are a comprehensive review of your health status with a special emphasis on disease prevention, fitness, nutrition, and includes thorough laboratory testing. There is ample opportunity to address any questions you may have. You will be given a copy of all your test results together with a written report of recommendations to optimize your health. Periodic review of lifestyle factors and health goals are an important part of preventative maintenance. Greater than 50% of the diseases we associate with aging including diabetes, heart disease, Alzheimer's, and many cancers can be eliminated with lifestyle modification.
Please ensure you complete the registration form and questionnaire with as much detail as possible. Dr. Pagdin will be utilizing many of your answers to create a tailored and comprehensive lab requisition for you.
The first appointment is a 15 minute no-charge consultation followed by a 45 minute comprehensive consultation.
*In order to reduce the duplication of ordered lab testing, please forward any recent lab results that you have had within the last 3-6 months, to us along with your completed forms.
Get your lab results online! Visit http://www.myehealth.ca/ to find out more.
An Executive Physical Exam consultation is 45 minutes in length and $350. This examination includes an analysis of body composition, thorough preventative health evaluation, and a written report, services which are not covered by medical insurance. Payment is required at time of service.
Please note that seeing Dr. Pagdin for an Executive Physical Exam does not make him your "family doctor". This is a once a year single service and all other medical concerns should be followed up with your family doctor or at a walk in clinic.
Please feel free to call or email if you have any further questions. We look forward to being in touch with you soon.
Live as young as possible, staying energetic and youthful without pain or disease.
Let us partner with you in wellness and prevention.